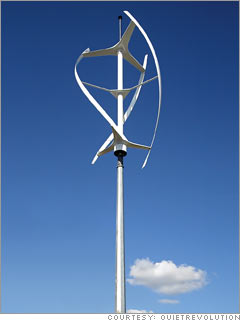 Bottom Line Design Awards
ENERGY
Eco-power doubles as modern art
Want to turn your backyard into a wind farm? The QR5, from U.K.-based Quietrevolution, is a residential-scale wind turbine that generates enough electricity to power a standard U.S. home or a small office. It also looks like a piece of wind-powered sculpture, which may prove to be one of its most important selling points. Quietrevolution's Richard Cochrane designed the QR5 to masquerade as an objet d'art to mollify critics who might grumble about ugly, noisy propellers.Beneath the skin is what Quietrevolution calls the world's most efficient turbine for capturing air currents near buildings and other structures, with carbon-fiber blades shaped to grab gusty city winds without making much noise. But make sure your checkbook is fully charged: At $48,000, the QR5 costs twice as much as a traditional propeller-style unit that generates the same output.Product QR5MANUFACTURER QuietrevolutionDESIGNER Richard CochraneBottom Line Two units have been installed in commercial development projects around London, with 70 to 80 planned for the coming year.
ARCHITECTURE
Prefab homes go deluxe
What if ordering a new house were no more complex than ordering a stack of books from Amazon.com (
AMZN
)? That's the basic idea behind a new line of prefabricated housing from LivingHomes of Santa Monica. Designed by renowned California architect Ray Kappe and aimed at a high-end, environmentally conscious clientele, the RK1 model has hit the market at $775,000 (not including land and extras). When an order is placed, the house is built in a factory, trucked to the homesite, and assembled in just one day. The 3,100-square-foot RK1 is a far cry from the trailer-park stereotypes of prefab living. Sleek, modern, and eco-friendly, it comes with high-efficiency LED lighting, solar panels, and an optional environmental monitoring system to keep energy use in check. Countertops, tiles, structural steel, and insulation are made from recycled materials.PRODUCT RK1MANUFACTURER LivingHomesDesigner Ray KappeBottom Line One show home has been installed; six are contracted to go up during the next year.
http://money.cnn.com/galleries/2007/biz2/0703/gallery.bottom_line_design.biz2/2.html